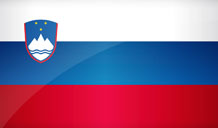 The National Day of Slovenia is on the 25 June (Statehood Day), declaration of independence from Yugoslavia 1991). Statehood Day (National Day) must not to be confused with Slovenia's Independence and Unity Day, which is celebrated each year on December 26 which celebrates the plebiscite for independence. The public holidays for Slovenia has been listed below.
National Anthem of Slovenia

Zdravljica
Lyrics:
Slovenian:
Živé naj vsi naródi,
ki hrepené dočakat dan,
da, koder sonce hodi,
prepir iz svéta bo pregnan,
da rojak
prost bo vsak,
ne vrag, le sosed bo mejak!
English:
God's blessing on all nations,
Who long and work for that bright day,
When o'er earth's habitations
No war, no strife shall hold its sway;
Who long to see
That all men free,
No more shall foes, but neighbours be.

National Day of Slovenia

,
Incoming search terms:
Related Posts