The National Day of Chile is on the 18 September. The first Government Junta of Chile was created in 1810. Below you will find more information about Chile.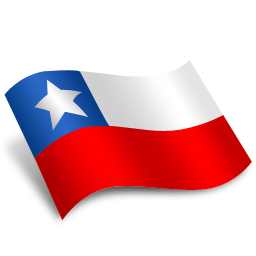 Chilean Government
.
Country name: Republica de Chile
Government type: Republic
Capital : Santiago
Administrative divisions:
15 regions (regiones, singular – region); Aisen del General Carlos Ibanez del Campo, Antofagasta, Araucania, Arica y Parinacota, Atacama, Biobio, Coquimbo, Libertador General Bernardo O'Higgins, Los Lagos, Los Rios, Magallanes y de la Antartica Chilena, Maule, Region Metropolitana (Santiago), Tarapaca, Valparaiso
National Dress of Chile:
Chile Fashion is has always been described as being a festive fashion. Chilean traditional clothing has always been very closely associated with such garments as the ponchos, pants and also coats. The Chileans of South America have always been very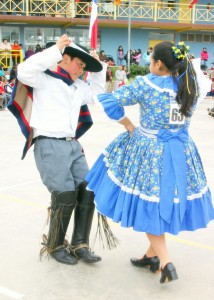 proud of their traditional dress. The traditional dress of Chile is still very much a fashion statement in Chile moreso than a designer label dress. The Chamanto is also a traditional wear which has been mainly worn in central Chile, the look is very similar to the traditional poncho however the traditional fabric used is silk which has been woven with a thread and wool.
The outline of the dress is decorated with frilly ribbons. The biggest difference between a Chilean Chamanto and any other traditional ponchos in chile is that they reverse colors on sides, one side has a light shade and the other side dark. Conventionally, the side of the dress in dark of the poncho is mainly worn during the day and the lighter side mainly again at night.
Even though as a people they are very fashion conscious and normally wear very formal attire most times, they are well aware of being comfortable all year round with the seasons in any part of the country. The Chamantos had its highlight as a world fashion when it was worn by the ambassadors of APEC in 2004 Summit.
The national dress of Chile is known as the Cueca.
National Holidays in Chile
.
January – 1st – New Year's Day
May – 1st – Labor Day
May – 21th – Naval Battle of Iquique
May – 30th – Corpus Christi
June – 29th – Saint Peter & Saint Paul's Day
August – 15th – Assumption
September – 11th – Military Coup of 1973
September – 18th – Independence Day
September – 19th – Armed Forces Day
October – 12th – Columbus Day
November – 1st – All Saints' Day
December – 8th – Immaculate Conception
December – 25th- Christmas Day
Chile Language
.
The language in Chile is mainly Spanish and it is Chile's official language today. There is also English, German and many native languages spoken in Chile outside of Spanish. The languages spoken in Chile have their own indigenous accents which typical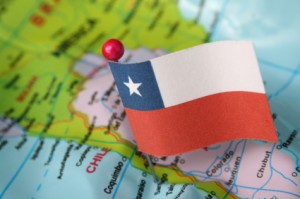 show of the heritage of Latin America. If you have been to chile you will note that they speak Spanish with an accent very similar to other Latin Americans in the region. The Chileans view their official language, Spanish as "Castellano" or Castilian but do not view this as "Espanol", which they are happy to point out to you when asked. They speak Spanish or Castilian with their own accent which have developed over time also with mannerisms unique to Chile.
This is viewed in Latin America as Chilean Spanish. Even though the language has similarities with Spanish over the years like other Spanish dominated countries of old they have developed their own distinctive pronunciation, vocabulary and grammar. English is normally taught at school and is now being used as a language for all international business in Chile. Due to its past Southern Chile is enriched with thier own German heritage so some do speak German. There are also many native languages such as Mapudungun which is spoken by the people living in the coastal areas of Itata and the Tolten Rivers. There is also Aymara which is spoken by the inhabitants in the North of Chile.  They have over the years preserved their rich Latin American culture but also changed their native languages in such a way that are now quite understandable by most everyone.
Chilean National Anthem
Chorus:
Dulce Patria, recibe los votos
Con que Chile en tus aras juró
Que o la tumba serás de los libres
O el asilo contra la opresión.
1:
Ha cesado la lucha sangrienta;
Ya es hermano el que ayer invasor;
De tres siglos lavamos la afrenta
Combatiendo en el campo de honor.
El que ayer doblegábase esclavo
Libre al fin y triunfante se ve;
Libertad es la herencia del bravo,
La Victoria se humilla a sus pies.
2:
Alza, Chile, sin mancha la frente;
Conquistaste tu nombre en la lid;
Siempre noble, constante y valiente
Te encontraron los hijos del Cid.
Que tus libres tranquilos coronen
A las artes, la industria y la paz,
Y de triunfos cantares entonen
Que amedrenten al déspota audaz.
3:
Vuestros nombres, valientes soldados,
Que habéis sido de Chile el sostén,
Nuestros pechos los llevan grabados;
Los sabrán nuestros hijos también.
Sean ellos el grito de muerte
Que lancemos marchando a lidiar,
Y sonando en la boca del fuerte
Hagan siempre al tirano temblar.
4:
Si pretende el cañón extranjero
Nuestros pueblos osado invadir;
Desnudemos al punto el acero
Y sepamos vencer o morir.
Con su sangre el altivo araucano
Nos legó por herencia el valor;
Y no tiembla la espada en la mano
Defendiendo de Chile el honor
5:
Puro, Chile, es tu cielo azulado,
Puras brisas te cruzan también,
Y tu campo de flores bordado
Es la copia feliz del Edén.
Majestuosa es la blanca montaña
Que te dio por baluarte el Señor,
Y ese mar que tranquilo te baña
Te promete futuro esplendor.
6:
Esas galas, ¡oh, Patria!, esas flores
Que tapizan tu suelo feraz,
No las pisen jamás invasores;
Con tu sombra las cubra la paz.
Nuestros pechos serán tu baluarte,
Con tu nombre sabremos vencer,
O tu noble, glorioso estandarte,
Nos verá combatiendo caer.
If you need more information and are British then you can contact the British Embassy in Chile for more information.
National Day of Chile

,
Incoming search terms: