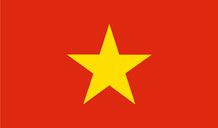 The National Day of Vietnam is on the 2 September (National Day, declaration of independence from France and Japan 1945). The history of Vietnam is extensive. The National Day in Vietnam if the 2 September falls on a Friday then expect everything to slow until the Monday. Hanoi is normally empty during the National Day celebrations.
Normally in Vietnam many visit family during this time. The airports are very busy during this time and the beaches are full. Try and do any of your business or travel well before the National Day of Vietnam. There is also a Thai embassy in Vietnam located in Hanoi and a British Embassy in Vietnam also located in Hanoi. The Canadian Embassy in Vietnam is also listed. See the links for the locations of these embassies in Vietnam.
Vietnamese Anthem
Vietnamese:
Đoàn quân Việt Nam đi
Chung lòng cứu quốc
Bước chân dồn vang trên đường gập ghềnh xa
Cờ in máu chiến thắng mang hồn nước,
Súng ngoài xa chen khúc quân hành ca.
Đường vinh quang xây xác quân thù,
Thắng gian lao cùng nhau lập chiến khu.
Vì nhân dân chiến đấu không ngừng,
Tiến mau ra sa trường,
Tiến lên, cùng tiến lên.
Nước non Việt Nam ta vững bền.
English:
Armies of Vietnam, forward!
With one single determination to save our Motherland,
Our hurried steps resound on the long and arduous road.
Our flag, red with the blood of victory, bears the spirit of the country.
The distant rumbling of the guns mingles with our marching song.
The path to glory is built by the bodies of our foes.
Overcoming all hardships, together we build our resistance bases.
Ceaselessly for the People's cause let us struggle,
Let us hasten to the battlefield!
Onward! All together advancing!
For one eternal Vietnam.

National Day of Vietnam

,
Incoming search terms: