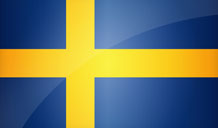 The National Day of Sweden is on the 6 June (Gustav Vasa is elected King of Sweden 1523, the constitutions of 1809 and 1974). The public holidays for Sweden have been added below.
National Anthem of Sweden
Du gamla, Du fria
Lyrics:
Swedish:
Du gamla, Du fria, Du fjällhöga nord
Du tysta, Du glädjerika sköna!
Jag hälsar Dig, vänaste land uppå jord,
Din sol, Din himmel, Dina ängder gröna.
Du tronar på minnen från fornstora dar,
då ärat Ditt namn flög över jorden.
Jag vet att Du är och Du blir vad Du var.
Ja, jag vill leva jag vill dö i Norden.
English:
Thou ancient, thou free, thou mountainous North
Thou quiet, thou joyful beauty!
I greet thee, most beautiful land upon earth,
Thy sun, Thy sky, Thy meadows green.
Thou art enthroned upon memories of great olden days,
When honored thy name flew across the earth,
I know that thou art and will be as thou wert,
Yes, I want to live, I want to die, in the North

National Day of Sweden

,
Incoming search terms:
Related Posts