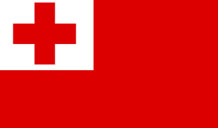 The National Day of Tonga is on the 4 June (Emancipation Day abolition of serfdom 1862, independence from the United Kingdom 1970). We have listed the public holidays below for Tonga.
National Anthem of Tonga
Ko e fasi 'o e tu'i 'o e 'Otu Tonga
Lyrics:
Tongan:
ʻE ʻotua māfimafi
ko homau ʻeiki koe
ko koe ko e falalaʻanga
mo e ʻofa ki Tonga.
ʻAfio hifo ʻemau lotu
ʻaia ʻoku mau faí ni
mo ke tali homau loto
ʻo maluʻi ʻa Tupou.
English:
Oh almighty God above
Thou art our lord and sure defense
As your people, we trust thee
And our Tonga thou dost love
Hear our prayer for thou unseen
We know that thou hath blessed our land
Grant our earnest supplication
And save our king Tupou.

National Day of Tonga

,
Incoming search terms: