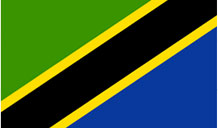 The National Day of Tanzania is on the 9 December (Independence Day 1962).  The national day celebrations are a national holiday which is celebrated with parades, marching before the Tanzanian president at the stadium in Dar es Salaam and cultural dances. We have listed the public holidays for Tanzania below.
National Anthem of Tanzania
Mungu ibariki Afrika
Lyrics:
Swahili:
Mungu ibariki Afrika
Wabariki Viongozi wake
Hekima Umoja na Amani
Hizi ni ngao zetu
Afrika na watu wake.
Ibariki Afrika, Ibariki Afrika
Tubariki watoto wa Afrika.
Mungu ibariki Tanzania
Dumisha uhuru na Umoja
Wake kwa Waume na Watoto
Mungu Ibariki Tanzania na watu wake.
Ibariki Tanzania, Ibariki Tanzania
Tubariki watoto wa Tanzania.
English:
God bless Africa
Bless its leaders
Wisdom, unity and peace
These are our shields
Africa and its people
Bless Africa, Bless Africa
Bless us, the children of Africa
God bless Tanzania
Grant eternal freedom and unity
To its women, men and children
God bless Tanzania and its people
Bless Tanzania, Bless Tanzania
Bless us, the children of Tanzania

National Day of Tanzania

,
Incoming search terms: