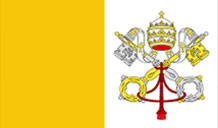 The National Day of Vatican City is on the 24 April (Cardinal Joseph Ratzinger is inaugurated as the 265th Pope 2005). Note that there is a listing for public holidays in Vatican city which we have listed below with its local name.
The public holidays for the Vatican has been listed below. Search this website for more national days from other countries around the world. These are the latest national holiday dates from the Vatican City.
National Day of Vatican City : 24th April
Vatican City Anthem
Italian:
Roma immortale di Martiri e di Santi,
Roma immortale accogli i nostri canti:
Gloria nei cieli a Dio nostro Signore,
Pace ai Fedeli, di Cristo nell'amore.
A Te veniamo, Angelico Pastore,
In Te vediamo il mite Redentore,
Erede Santo di vera e santa Fede;
Conforto e vanto a chi combatte e crede,
Non prevarranno la forza ed il terrore,
Ma regneranno la Verità, l'Amore.
English:
O Rome immortal of Martyrs and Saints,
O immortal Rome, accept our praises:
Glory in the heavens to God our Lord,
And peace to men who love Christ!
To You we come, Angelic Pastor,
In You we see the gentle Redeemer,
The Holy Heir of true and holy Faith;
Comfort and refuge of those who believe and fight.
Force and terror will not prevail,
But Truth and Love will reign.

National Day of Vatican City

,
Incoming search terms:
Related Posts