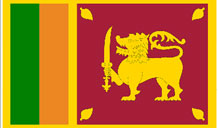 The National Day of Sri Lanka is on the 4 February (Independence Day, from the United Kingdom 1948, still under name of Ceylon). Each year they have dances, singing and other performances that showcase the Sri Lankan unity and culture. The public holidays for Sri Lanka have been added below. Search this website for more national and independence days from around the world.
National Anthem of Sri Lanka

சிறீ லங்கா தாயே
Lyrics:
Sinhalese:
Sri Lanka Matha, apa Sri Lanka,
Namo Namo Namo Namo Matha.
Sundara siri barini,
Surendi athi Sobamana Lanka
Dhanya dhanaya neka mal pala thuru piri, Jaya bhoomiya ramya.
Apa hata sapa siri setha sadana, jeewanaye Matha!
Piliganu mena apa bhakthi pooja,
Namo Namo Matha.
Apa Sri Lanka,
Namo Namo Namo Namo Matha
Obawe apa widya, Obamaya apa sathya
Obawe apa shakti, Apa hada thula bhakthi
Oba apa aloke, Aapage anuprane
oba apa jeewana we, Apa muktiya obawe
Nawa jeewana demine
Nnithina apa Pubudu karan matha
Gnana weerya wadawamina ragena yanu
mena jaya bhoomi kara
Eka mawekuge daru kala bawina
yamu yamu wee nopama
Prema wada sama bheda durara da
Namo Namo Matha
Apa Sri Lanka,
Namo Namo Namo Namo Matha.
Tamil:
ஸ்ரீ லங்கா தாயே – நம் ஸ்ரீ லங்கா
நமோ நமோ நமோ நமோ தாயே
நல்லெழில் பொலி சீரணி
நலங்கள் யாவும் நிறை வான்மணி லங்கா
ஞாலம் புகழ் வள வயல் நதி மலை மலர்
நறுஞ்சோலை கொள் லங்கா
நமதுறு புகலிடம் என ஒளிர்வாய்
நமதுதி ஏல் தாயே
நமதலை நினதடி மேல் வைத்தோமே
நமதுயிரே தாயே – நம் ஸ்ரீ லங்கா
நமோ நமோ நமோ நமோ தாயே
நமதாரருள் ஆனாய்
நவை தவிர் உணர்வானாய்
நமதோர் வலியானாய்
நவில் சுதந்திரம் ஆனாய்
நமதிளமையை நாட்டே
நகு மடி தனையோட்டே
அமைவுறும் அறிவுடனே
அடல்செறி துணிவருளே – நம் ஸ்ரீ லங்கா
நமோ நமோ நமோ நமோ தாயே
நமதோர் ஒளி வளமே
நறிய மலர் என நிலவும் தாயே
யாமெல்லாம் ஒரு கருணை அனைபயந்த
எழில்கொள் சேய்கள் எனவே
இயலுறு பிளவுகள் தமை அறவே
இழிவென நீக்கிடுவோம்
ஈழ சிரோமணி வாழ்வுறு பூமணி
நமோ நமோ தாயே – நம் ஸ்ரீ லங்கா
நமோ நமோ நமோ நமோ தாயே
English:
Mother Lanka we salute Thee!
Plenteous in prosperity, Thou,
Beauteous in grace and love,
Laden with grain and luscious fruit,
And fragrant flowers of radiant hue,
Giver of life and all good things,
Our land of joy and victory,
Receive our grateful praise sublime,
Lanka! we worship Thee.
Thou gavest us Knowledge and Truth,
Thou art our strength and inward faith,
Our light divine and sentient being,
Breath of life and liberation.
Grant us, bondage free, inspiration.
Inspire us for ever.
In wisdom and strength renewed,
Ill-will, hatred, strife all ended,
In love enfolded, a mighty nation
Marching onward, all as one,
Lead us, Mother, to fullest freedom.

National Day of Sri Lanka

,
Incoming search terms: